The oldest patisserie in Paris, since 1730
Stohrer, the oldest patisserie in Paris, was founded in 1730 by King Louis XV's pastry chef, Nicolas Stohrer. Still located rue Montorgueil, this establishment has taken on mythical qualities over time. Now listed as a historical site, its lavish décor was designed by a student of Paul Baudry, who decorated the Opéra Garnier.
Century after century, this mecca for both sweet and savory delicacies, where everything is prepared in-house, has offered the best of classic French pastry. Rum babas (invented by Nicolas Stohrer himself), puits d'amour, old-fashioned religieuses, exceptional vol-au-vent…
Faithful to traditions, the Dolfi family, who hold the reins of the House, wish to perpetuate the spirit of Stohrer by relying on an exceptional heritage and the know-how of its team of pastry chefs.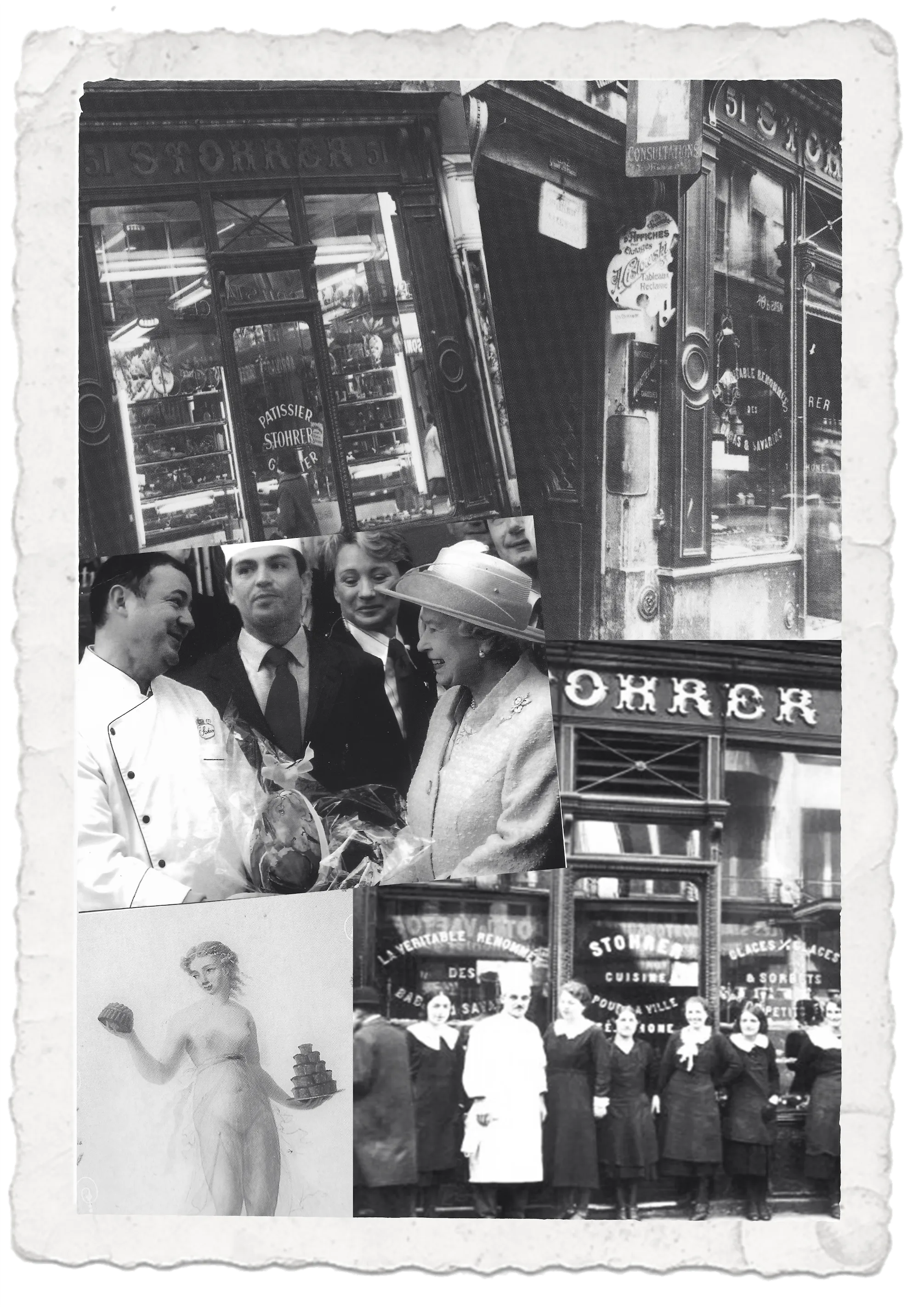 NICOLAS STOHRER, THE LEGACY OF A VISIONARY
Nicolas Stohrer was pastry chef to Stanislas Leszczynski, Duke of Lorraine, former King of Poland, and father of Marie Leszczynska, who married Louis XV of France. He invented the rum baba, which has since become a legendary recipe. The story goes that Stanislas once complained that his Kouglof (a brioche from Alsace) was too dry, so Nicolas doused it with Tokay or Malaga wine (according to diverging accounts), which he later replaced with rum. Nicolas Stohrer was also the creator of many other classic French pastries, such as the Chiboust cream tart, the puits d'amour and the traditional-style religieuse.
Nicolas was a visionary in the way he went about his work as a pastry chef. When he set up shop on rue Montorgueil, he brought a modern vision to his commerce by offering chou pastries in a wide array of forms. He was also the first to bring together under the same roof different skills and techniques that were separate trades before: pastry making, of course, but also confectionery, cake-baking and wafer-, waffle- and spiced-bread making. Thanks to Nicolas Stohrer, pastry chefs ceased to be just makers of savoury "pies" and embraced all forms of sweet treats as well. But that doesn't mean he stopped making his famous vol-au-vents, for which Parisians still flock to the shop at 51 rue Montorgeuil.
Stohrer's repertoire is unparalleled and the shop continues to propose the best of what classic French patisserie has to offer: rum babas, Chiboust cream tarts and traditional-style religeuses – all invented by Nicolas Stohrer – as well as his exceptional vol-au-vents.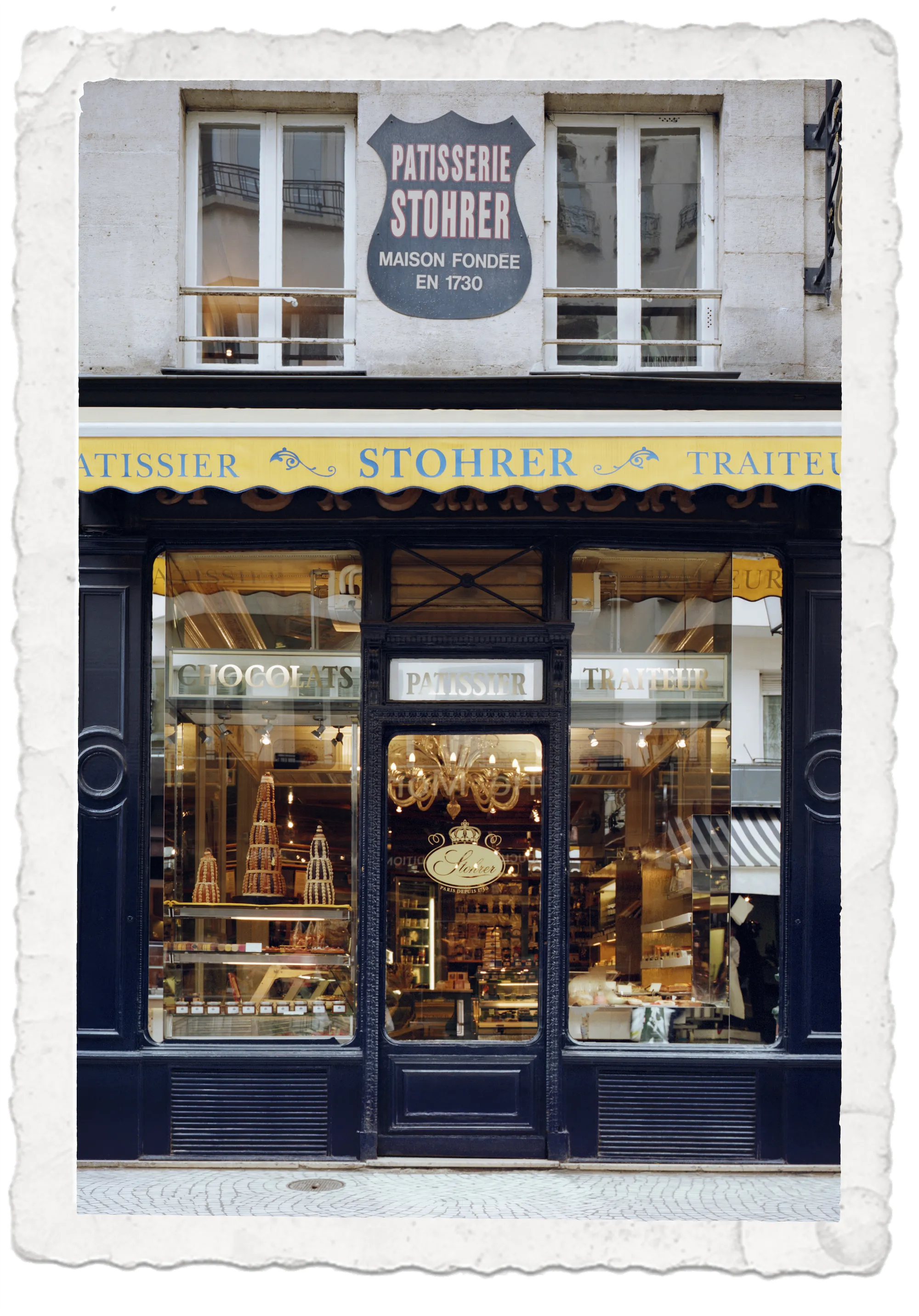 A HISTORIC ALLIANCE, IN 2017
The Dolfi family took over Stohrer in 2017, marking the coming together of two histories and a new chapter for the rue Montorgueil shop. Stohrer now combines its classic excellence with the expertise of the Dolfi family, which over the years has become the "guardian" of expertise in sweet treats.