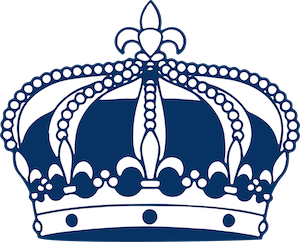 The oldest patisserie in Paris, since 1730
Enter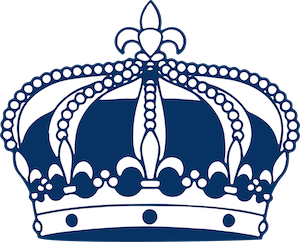 STOHRER
FOUNDED IN 1730
The oldest patisserie in Paris, since 1730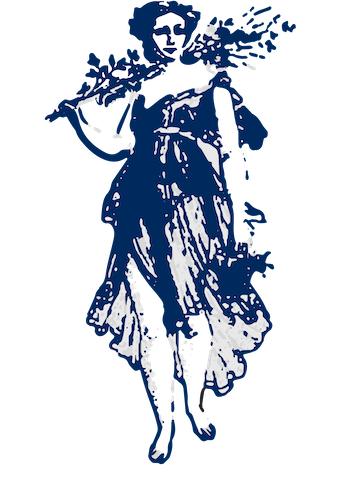 Stohrer, the oldest patisserie in Paris, was founded in 1730 by King Louis XV's pastry chef, Nicolas Stohrer. Still located rue Montorgueil, this establishment has taken on mythical qualities over time. Now listed as a historical site, its lavish décor was designed by a student of Paul Baudry, who decorated the Opéra Garnier.
Century after century, this mecca for both sweet and savory delicacies, where everything is prepared in-house, has offered the best of classic French pastry. Rum babas (invented by Nicolas Stohrer himself), puits d'amour, old-fashioned religieuses, exceptional vol-au-vent...
The Dolfi family, who owns the House, is faithful to tradition and wishes to keep the spirit of Stohrer alive, relying on its incomparable legacy and the know-how of head pastry chef Jeffrey Cagnes.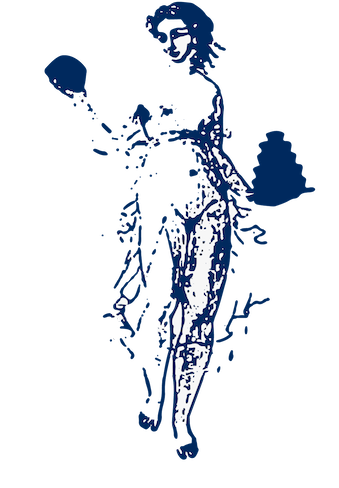 About us
Founded in 1730 by pastry chef Nicolas Stohrer, and located ever since at 51 rue montorgueil, stohrer is the oldest patisserie in paris and is a legend in its own right.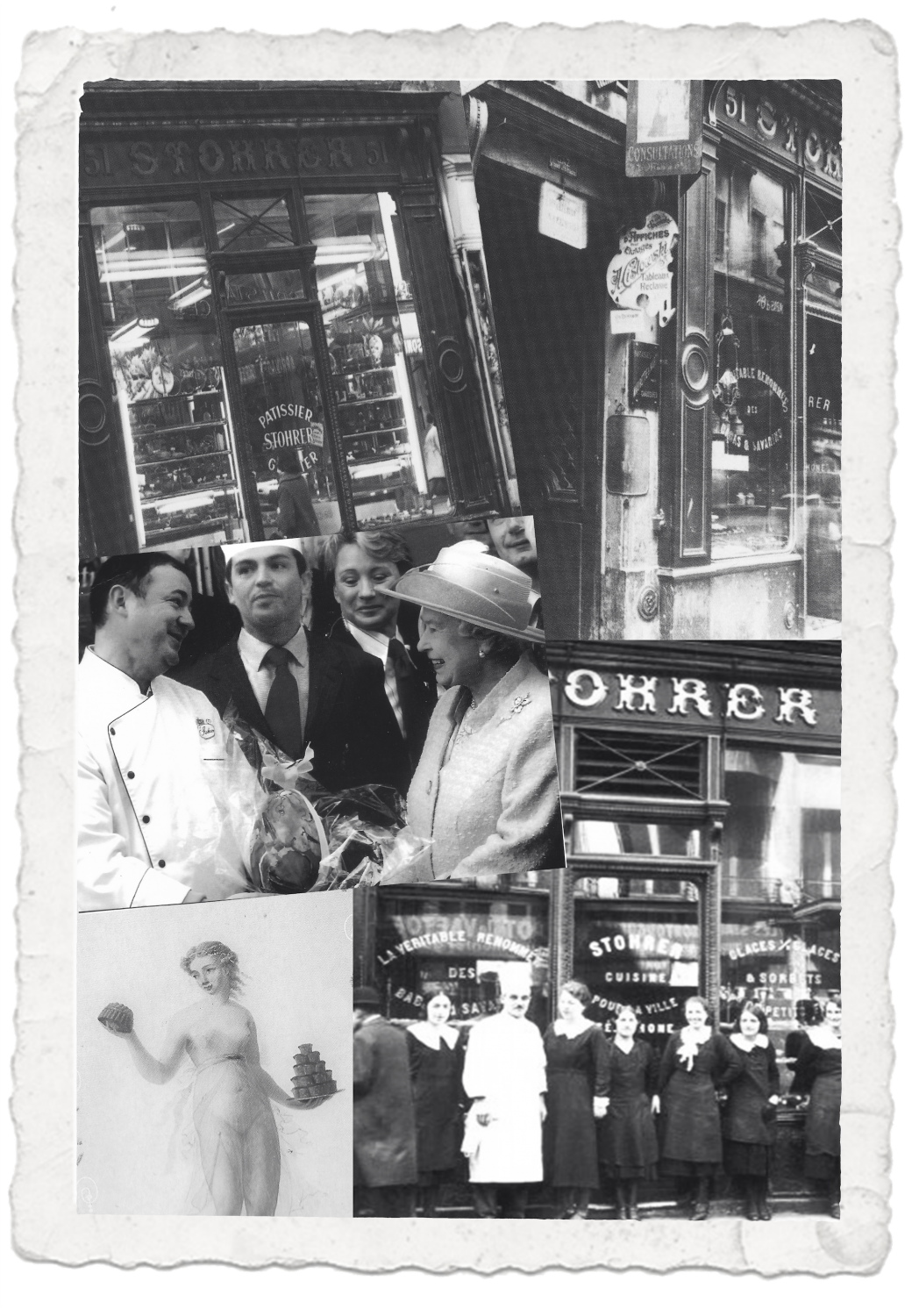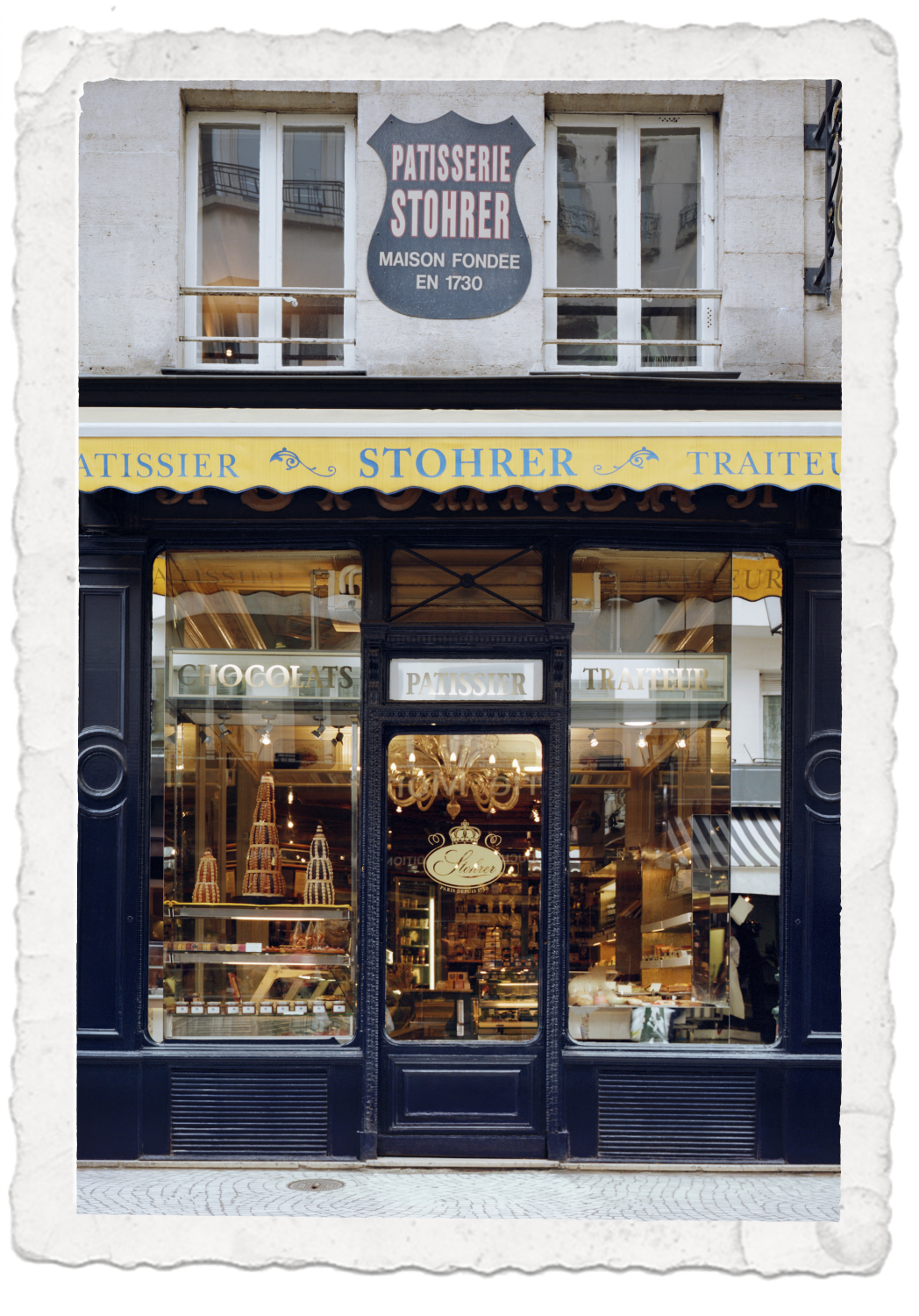 NICOLAS STOHRER, THE LEGACY OF A VISIONARY
Nicolas Stohrer was pastry chef to Stanislas Leszczynski, Duke of Lorraine, former King of Poland, and father of Marie Leszczynska, who married Louis XV of France. He invented the rum baba, which has since become a legendary recipe. The story goes that Stanislas once complained that his Kouglof (a brioche from Alsace) was too dry, so Nicolas doused it with Tokay or Malaga wine (according to diverging accounts), which he later replaced with rum. Nicolas Stohrer was also the creator of many other classic French pastries, such as the Chiboust cream tart, the puits d'amour and the traditional-style religieuse.
Nicolas was a visionary in the way he went about his work as a pastry chef. When he set up shop on rue Montorgueil, he brought a modern vision to his commerce by offering chou pastries in a wide array of forms. He was also the first to bring together under the same roof different skills and techniques that were separate trades before: pastry making, of course, but also confectionery, cake-baking and wafer-, waffle- and spiced-bread making. Thanks to Nicolas Stohrer, pastry chefs ceased to be just makers of savoury "pies" and embraced all forms of sweet treats as well. But that doesn't mean he stopped making his famous vol-au-vents, for which Parisians still flock to the shop at 51 rue Montorgeuil.
Stohrer's repertoire is unparalleled and the shop continues to propose the best of what classic French patisserie has to offer: rum babas, Chiboust cream tarts and traditional-style religeuses – all invented by Nicolas Stohrer – as well as his exceptional vol-au-vents.
A HISTORIC ALLIANCE, IN 2017
The Dolfi family took over Stohrer in 2017, marking the coming together of two histories and a new chapter for the rue Montorgueil shop. Stohrer now combines its classic excellence with the expertise of the Dolfi family, which over the years has become the "guardian" of expertise in sweet treats.
Our family
THE SWEET-TOOTHED FAMILY
ÉTIENNE DOLFI, THE FATHER
SOPHIE, JANE, STEVE AND JONATHAN, THE CHILDREN
The alliance between Stohrer and "the family" was meant to be. The Dolfis preside over the destiny of one of Paris' finest and oldest chocolate-making houses – À La Mère de Famille – which was established in 1761. This long-standing institution has over 1,000 different sweet treats on offer. All of the Dolfi family members share a passion for flavour and taste, they all have a decidedly sweet tooth and they all want to preserve ancestral skills, without turning them into museum pieces.
For the Dolfi family, making everything themselves and controlling the overall process from A to Z guarantees consistency, taste and excellence. And at Stohrer – a heaven of sweet treats and savoury delights – we develop our own recipes with our pastry chef, Jeffrey Cagnes, confectioning everything on site.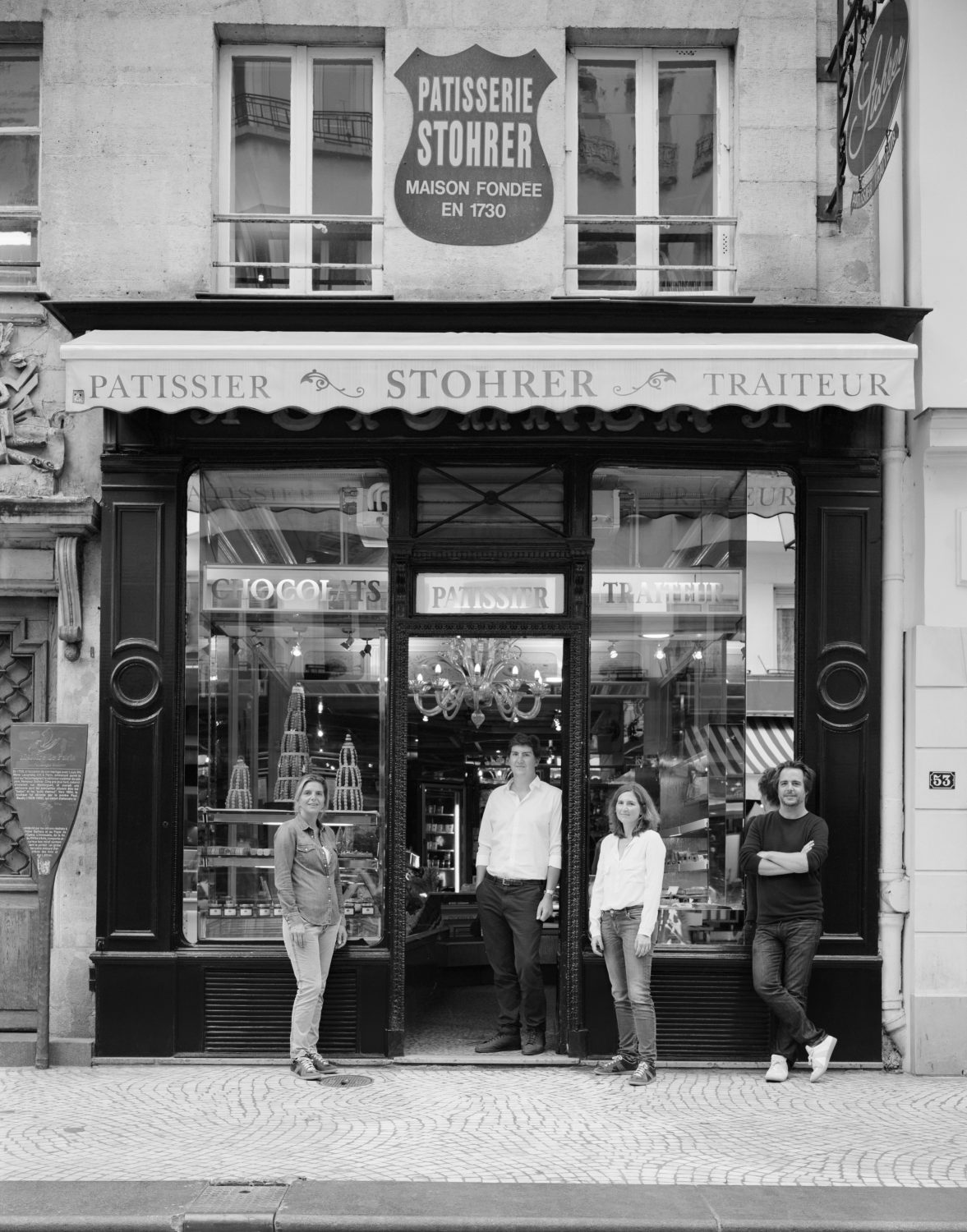 Sophie, Jonathan, Jane and Steve
Our chef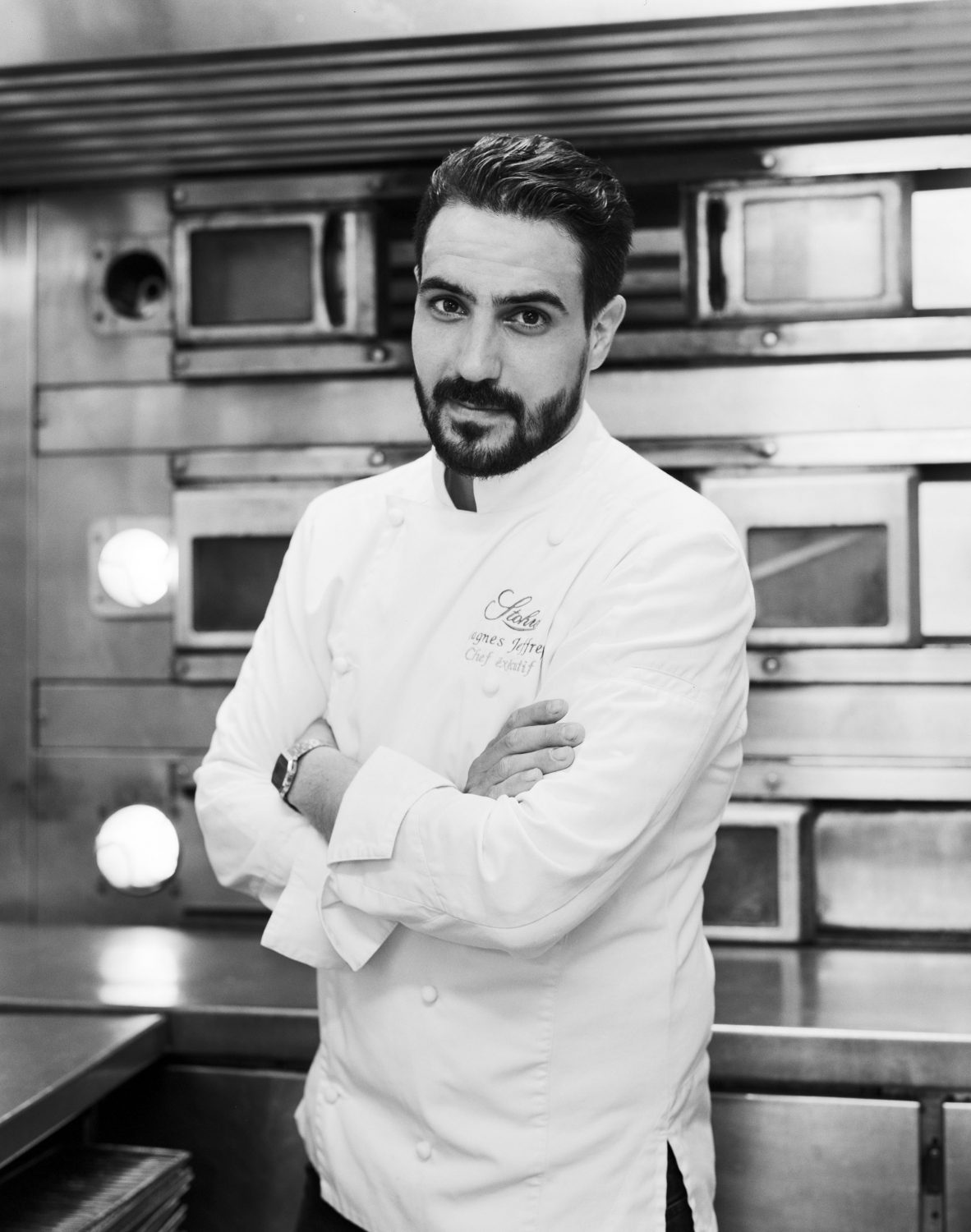 JEFFREY CAGNES
A unique story is being created between a young chef and Paris's oldest patisserie.
A fervent supporter of classic French savoir-faire, Jeffrey boasts rich experience and is strongly inspired by the Stohrer hallmark, having served as an apprentice in the iconic pastry shop before becoming its Chef. This experience has given him exceptional knowledge and mastery of French patisserie as well as a particular vision. "Practically everything that's created today is really just a re-creation. I believe it's important to be humble and draw on the great repertoire at our fingertips. But that doesn't mean we can't update it a bit."
What Jeffrey does at Stohrer's is definitely worth seeing. He might be putting together a traditional-style religieuse, an impressive pièce montée made of eclairs on a shortcrust pastry base, with each eclair piped, filled and iced by hand. Or passing each puits d'amour cake under an ancestral red-hot iron. "For me, Stohrer is an amazing establishment. It's almost impossible to describe. And I'm delighted with our alliance with the Dolfi family. When I talked with the Dolfis I quickly realised that they have a sense of history and taste that particularly impressed me."
After taking some time out to discover other horizons, Jeffrey "came home" to Stohrer when the Dolfis explained their vision for the establishment. "It seems like it was my destiny. I've come home", he says.
Our shops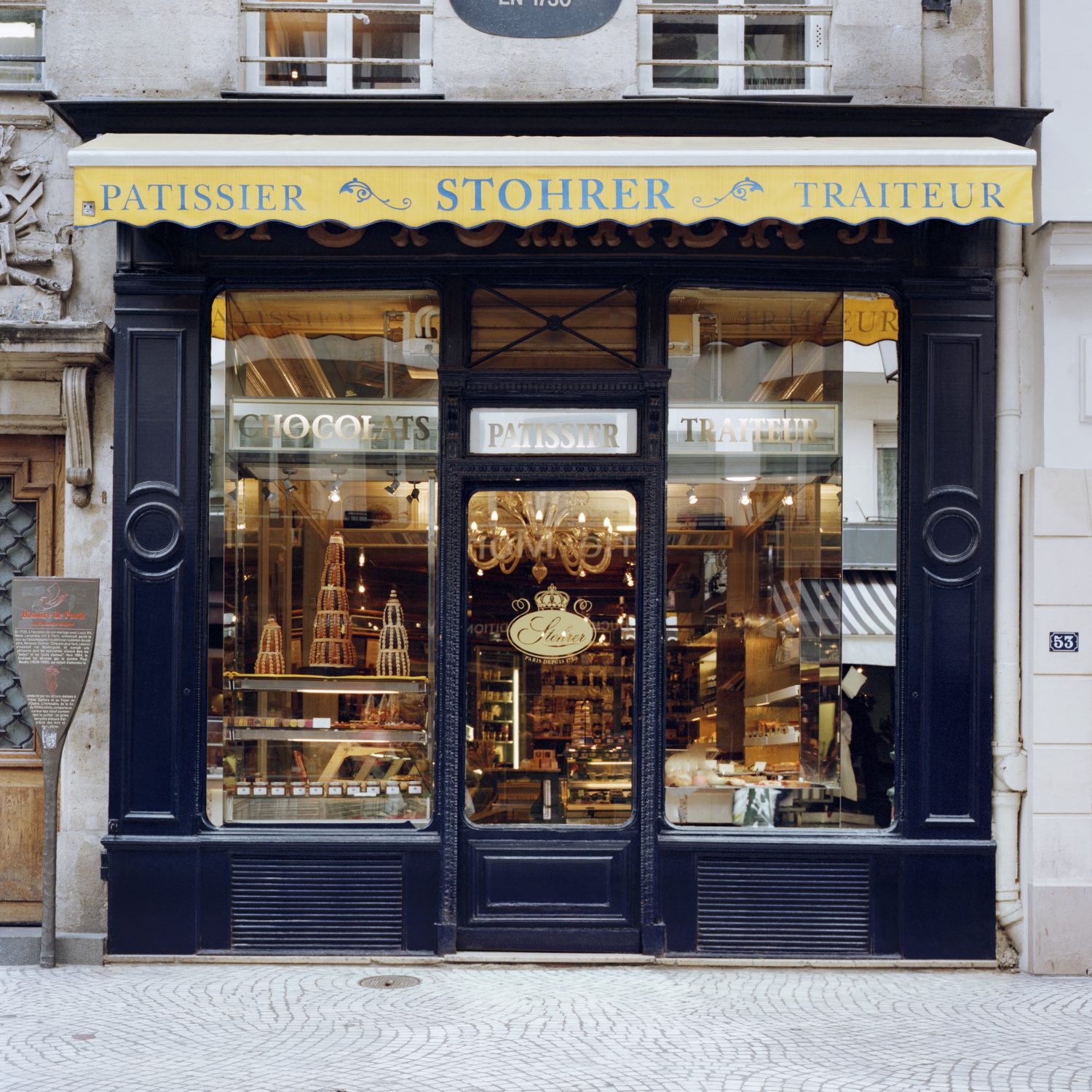 Our historic shop
The sumptuous decor of this shop is the work of a pupil of Paul Baudry, one of the leaders of Academic art under the Second French Empire, and is listed as a national historic monument.
51 rue Montorgueil
75002 Paris
Opening times:
Monday to Sunday: 8.00 a.m. to 8.00 p.m.
Telephone: +33 (0)1 42 33 38 20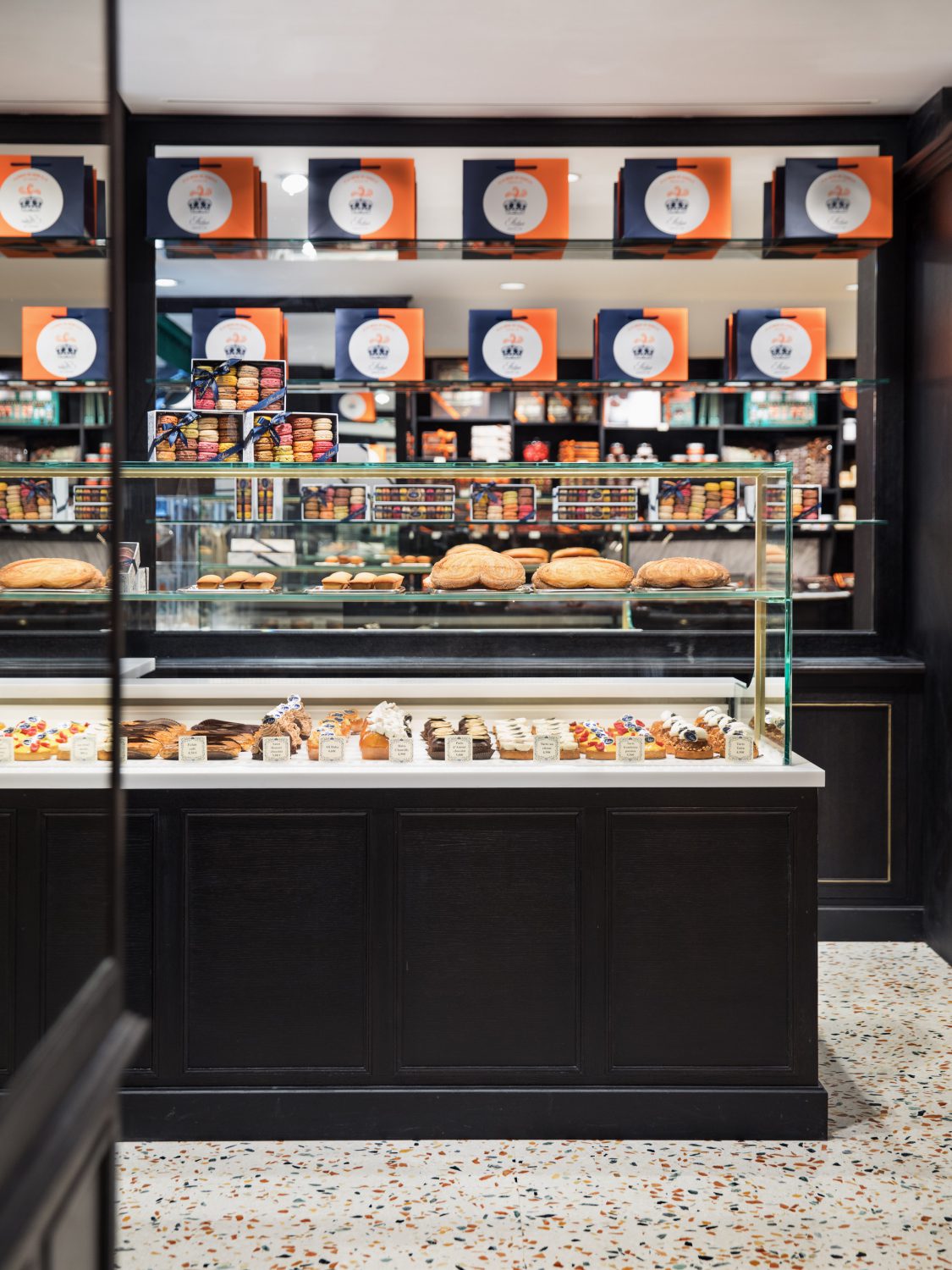 À la Mère de Famille & Stohrer - Paris 7
Paris's oldest chocolate confectionery (established in 1761) and oldest patisserie have come together for the first time, in a store that proposes an assortment from our collection of sweet pastries and cakes.
35 rue Cler
75007 Paris
Opening times
Monday to Saturday: 9.30 a.m. to 8.00 p.m.
Sunday: 9.30 a.m. to 7.30 p.m.
Telephone: +33 (0)1 45 55 29 74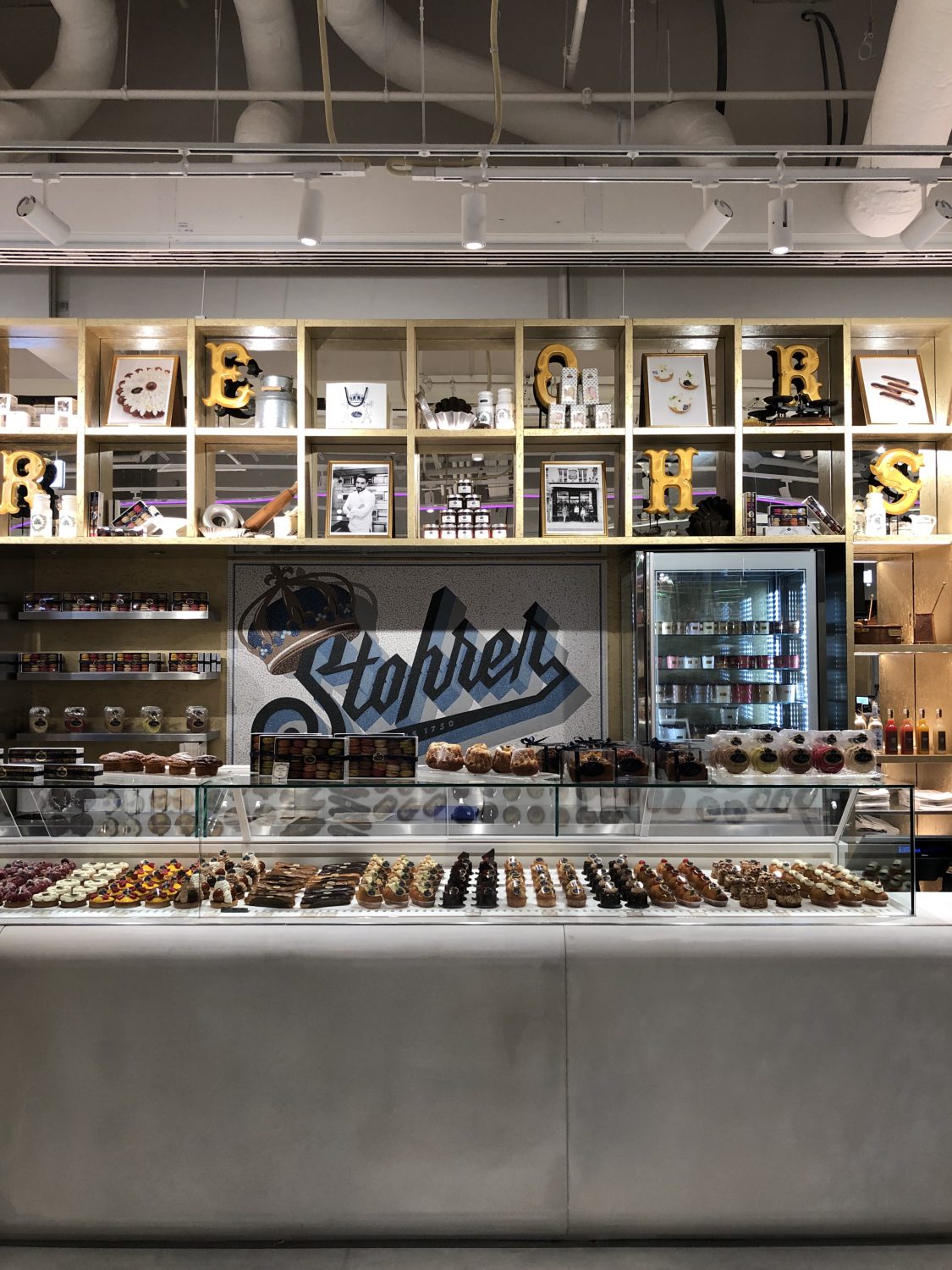 Galeries Lafayette Champs Elysées - Paris 8
In the unique setting of this iconic department store on the Champs Elysées, we offer an assortment from our collection of sweet pastries and cakes.
60 avenue des Champs Elysées
75008 Paris
Opening times:
Monday to Sunday: 10.00 a.m. to 8.00 p.m.
Telephone: +33 (0)1 83 65 61 00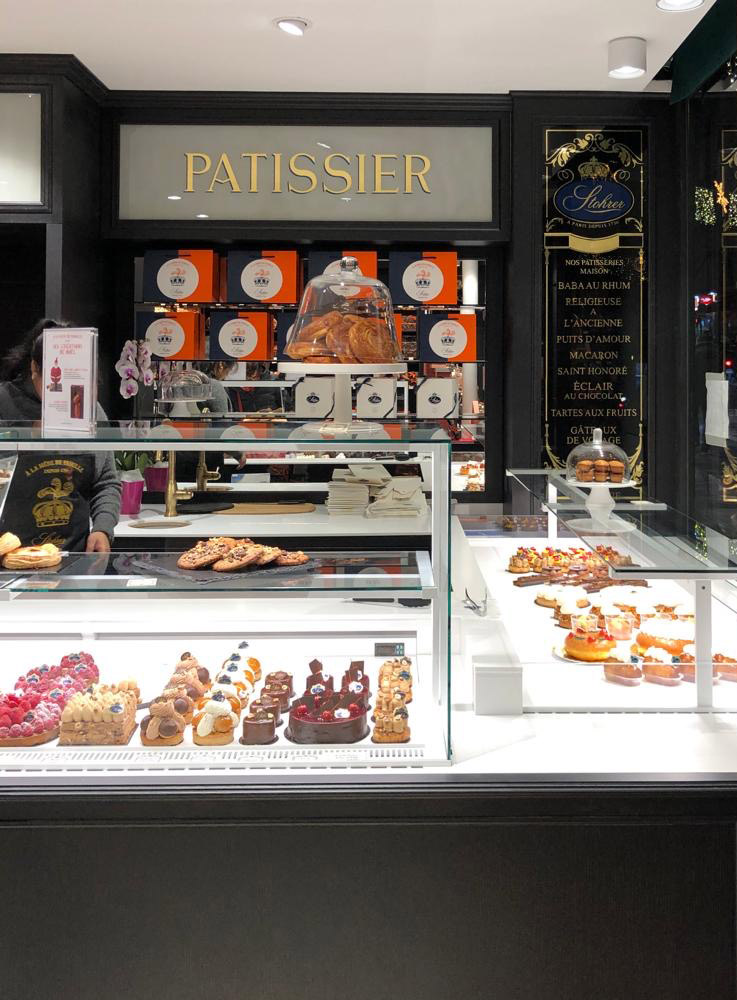 À la Mère de Famille & Stohrer - Paris 15
The two Parisian institutions are together to offer you chocolates, confectionery and pastries! What to treat all the sweet beaks of the district…
95 rue Cambronne
75015 Paris
Opening times:
Monday to Saturday: 9.30 a.m. to 8.00 p.m.
Sunday: 9.30 a.m. to 19.30 p.m.
Telephone: 01 45 66 76 64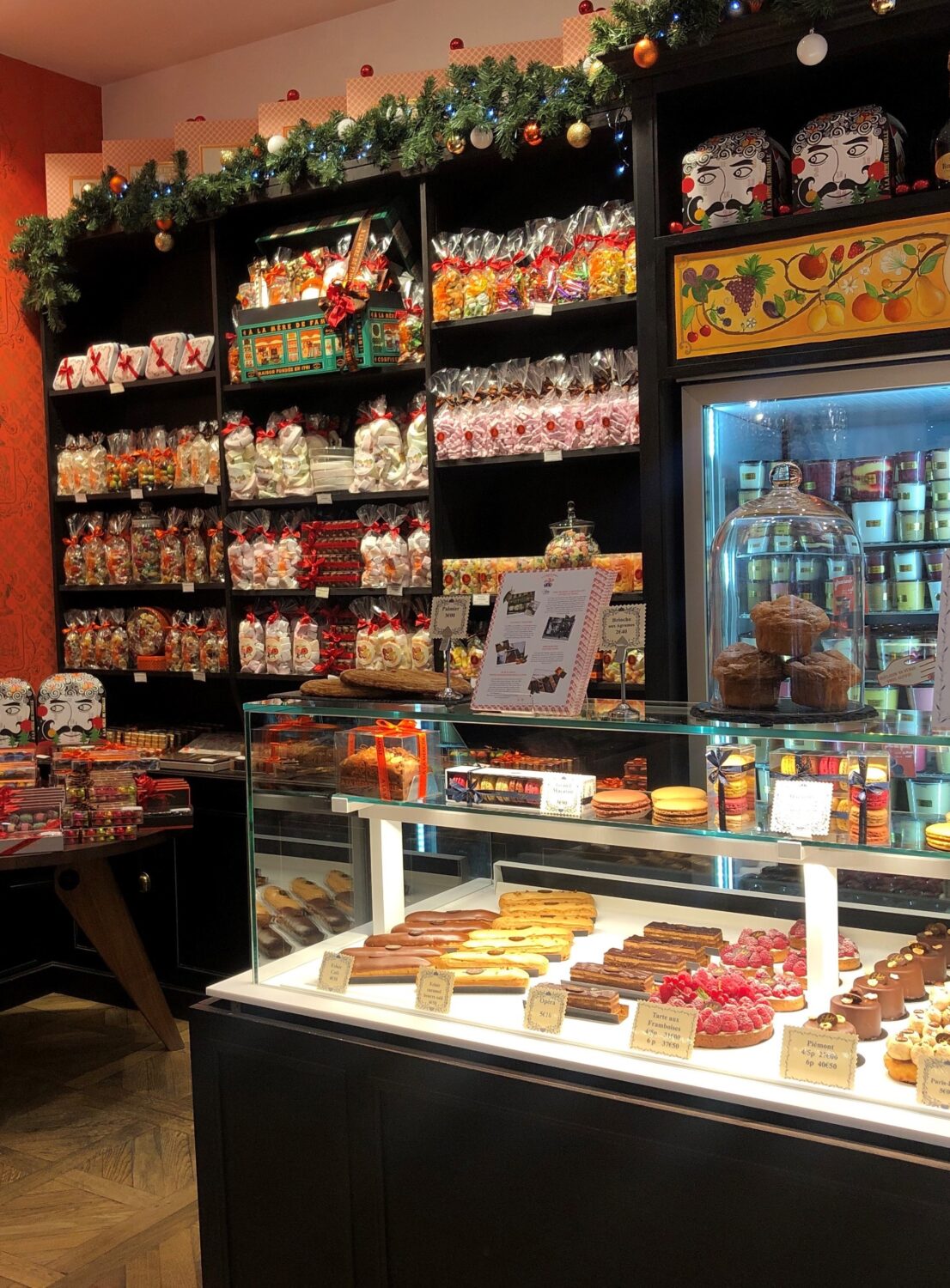 À la Mère de Famille & Stohrer - Paris 18
À la Mère de Famille and Stohrer had an another go and live a second youth with this new house-share… Pastries and delicious homemade cakes are now installed at the foot of Montmartre hill.
23 rue Lepic
75018 Paris
Opening times:
Monday to Saturday: 9.30 a.m. to 8.00 p.m.
Sunday: 9.30 a.m. to 19.30 p.m.
Telephone: 01 53 41 62 97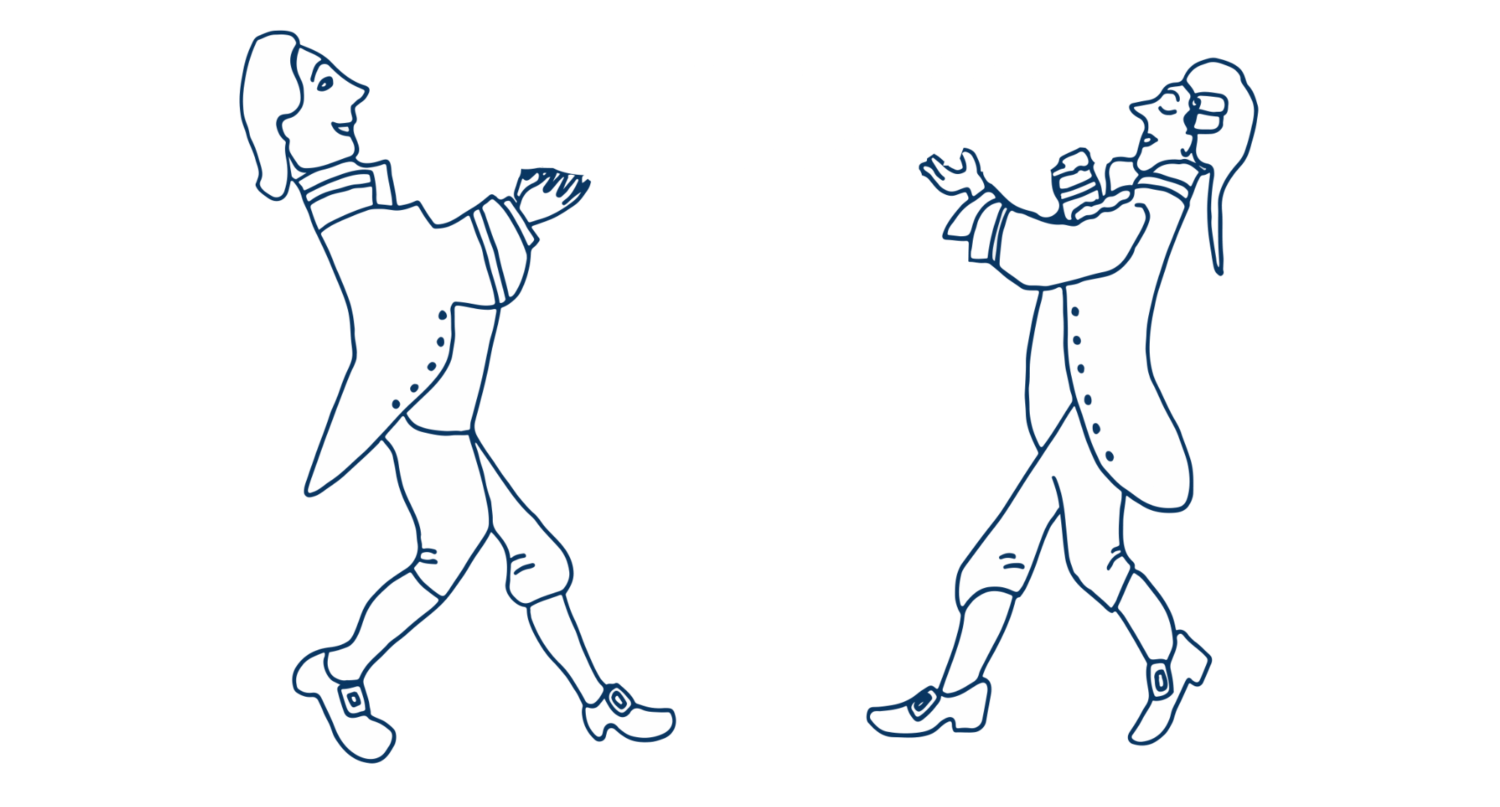 Order form
All of our dishes and specialties are prepared on site, rue Montorgueil, by artisans to guarantee quality and freshness. We therefore need 48 hours' notice to prepare your order (72 hours for 'savoury menu') with the care it deserves.
We deliver in Paris and the Paris suburbs. Our quote will include delivery costs.
To contact us, please complete the form below or call our historic shop on +33 (0)1 42 33 38 20.